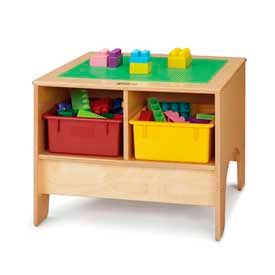 Children's Sensory and Play Tables
Children's Sensory and Play Tables Provide Accessible and Interactive School Furniture For Elementary and Daycare Environments .

Children's sensory and play tables accept toys and crafts for storage while providing a surface top for engaging activities. All units are designed to fit easily through classroom doors. Select models include locking caster wheels for easy portability and stationing. Some models feature a cover with Lego® compatible plate. Available Color Finishes are Birch, Birch/White, Blue, Natural, and Red. Dimensions, activity table types, and additional specifications vary per model.