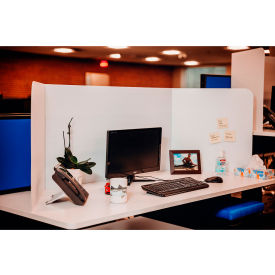 Freestanding Desk Dividers
Freestanding Desk Dividers are Designed for any Flat Surface Where Social Distancing or Privacy is Needed.

Freestanding Desk Dividers accommodate a variety of facilities in need of social distancing and germ safety barriers in cubicles, office rooms, classrooms, and other similar working environments. These tabletop freestanding desk dividers are an easy way to distance and protect employees with minimal installation and setup. Each partition can be used on any flat surface where social distancing or privacy is needed. Available Base Construction Materials are Acrylic, Fabric, PVC, Plastic, Plexiglass, and more. Package quantities and additional specifications vary per model.