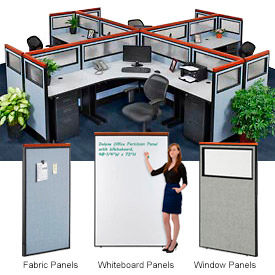 Interion® Deluxe Cubicle Partition Panels
Deluxe Office Cubicle Partitions Enhance Any Office with Cherry Finish Wood Caps.
Interion® Office Partitions are a build-your-own system, whether you need to create one cubicle or an entire office. Each panel can easily be assembled together through use of steel connectors (sold separately) to
form straight runs, 90 degree corners, 4 way cubicles and high-low panel configurations.
Panels come in
blue or gray fabric options
in varying widths and heights. Deluxe Panels are an upgrade to our standard panels by adding a cherry finish wood cap to the top of the panel.
Call for Customization and Installation Services!
1-800-645-1232.