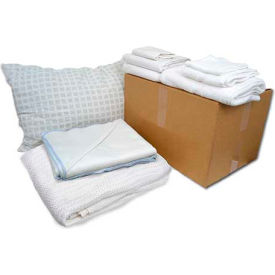 Bed & Bath Dormitory Kits
Bed and Bath Dormitory Kits Are Suitable For Dormitories, Shelters, Hospitals, and more.

Bed and bath dormitory kits provide essential bedding sets and towels for living quarters. Each set includes 2 pillowcases and 2 standard size pillows in addition to towels and more. Available Types are Pre-Washed and Unwashed. Available Bed Sizes are Full, King, Queen, Twin, and Twin XL. Cotton/Polyester Material base offers lasting comfort and durability. Dimensions and colors vary per model.