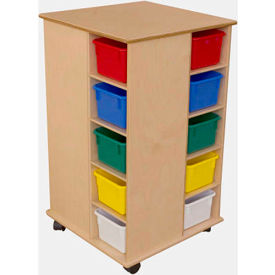 Mobile Spinner Storage
Mobile Cubby Tower Storage Units Are Used For Easy Organization And Accessibility Of Children's Toys, Games, Art Or Educational Supplies.

Mobile Cubby Tower Storage Units are solidly constructed of Birch Plywood or Birch Laminate material with attractive Birch or Natural finishes for long lasting durability and dependability. Jonti-Craft® and Whitney Brothers brands offer multi-compartment tower type units complete with durable Clear or Assorted Color plastic bins designed for easy storage, organization and accessibility of children's toys, games, art supplies and other personal or educational items. Some units are available without bins. Mobile units may be easily moved to play or educational location and then stored away when not in use. 12, 24 or 32 compartment units are available in 27 and 28-1/2 inch widths, 24 and 27 inch depths and 22-1/2, 40-1/2, 41, 53-1/2 and 53-3/4 inch heights.