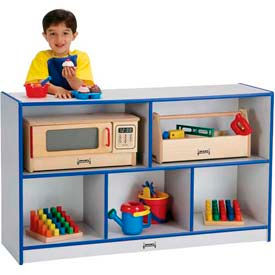 Mobile Cubby Storage without Bins
Wood Finished Shelf Cubby Storage Units Are Used For Customizing Any Classroom Setup To Hold Books, Toys And Other Supplies.

Wood Finished Shelf Cubby Storage Units are solidly constructed of Baltic Birch Plywood, Birch Plywood, Maple Laminate, Gray Laminate, Hardwood, Solid Maple and Recycled Wood Residual material for long lasting durability and dependability. ECR4Kids®, Jonti-Craft®, Whitney Brothers and Wood Designs brands offer wide selection of multi-compartment units designed to store and provide quick access to toys, games, art supplies, books and more. Mobile units may be easily moved to play or educational location and then stored away when not in use. Stationary units also available. Some units have colored edging to create bright, attractive appearance for children. 2, 3, 5, 6, 7, 8, 9, 10, 14 and 17 compartment cubbies are available in 24, 26-3/4, 36, 46-3/4, 48 and 50 inch widths, 12, 13, 14, 15, 16, 18, 18-3/4, 24, 28 and 29 inch depths, wide range of 21-1/2 to 42 inch heights and attractive Birch, Gray, Maple and Natural Wood finishes.