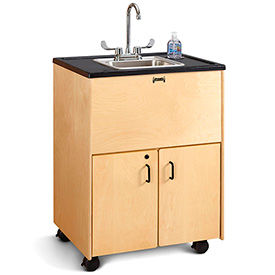 Portable Classroom Sinks
Portable Classroom Sinks Give Your Classroom a Washing Station Without Plumbing.
These portable washing Water is heated by the tankless, on-demand water heater. The water pump has a flow rate of up to half a gallon per minute. The tank for the non-potable clean water holds five gallons while the waste water tank holds six gallons. There is a catch tray under the tanks. Available styles are
Children's Portable Sink, Student's Portable Sink, and the Portable Sink Accessory Kit.
Tops are made of plastic or stainless steel.
Stainless Steel sink is approximately 5" deep
Power switch is inside the cabinet and there are openings for cord management
Mistake-proof connectors means the clean and waste water tanks cannot be inadvertently switched
Heights are 38" and 49-1/2"
Accessory kit includes mobile cart and 60" hose w/funnel