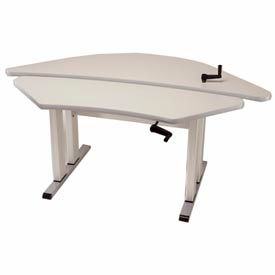 Equity™ Height Adjustable Computer Workstations
Equity™ Height Adjustable Computer Workstations Provide Equal Access And Comfort For People Of All Statures And Abilities.

Manual height adjustable workstations allow wheelchair access for ADA compliance, as well as, provide ergonomic comfort that reduces fatigue and prevents overuse injuries. The perfect solution for computer labs and other areas where space is at a premium. Steel frame with metal telescoping legs adjust from 24-38"H using a manual hand crank that folds away when not in use. Made with a durable laminate work surface and advanced hydraulics. Bi-Level Workstations includes two easy-to-turn hand cranks; one for each independently adjustable work surface. Bi-Level Corner Workstations fit into standard 42" corners. ADA compliant. 2 Year Limited Warranty.