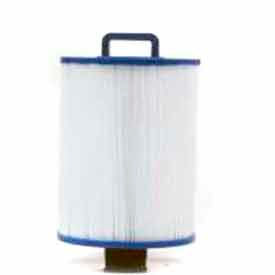 Spa Filters & Cartridges
Spa Filters & Cartridges Are Made For Optimum Efficiency And Great Value.

Filter core is engineered to deliver better water flow rates to enhance filtration over competitive brand filters. Reduces wear and tear on the pump, uses less energy and provides longer life to the cartridge. Media is made with superior, highly efficient spun bonded polyester Reemay filtration fabric. Uniform flow distribution results in even dirt loading providing cleaner water. Bands ensure pleat stability. Break-resistant bands keep pleats clearly defined and evenly separated for greater flow of water. Models with Antimicrobial end caps provide structural support and increase filter cartridge durability. End caps are specially formulated to withstand chlorine degradation better than any other brand in the business. End caps are 100% antimicrobial to prohibit the growth of odor causing bacteria.