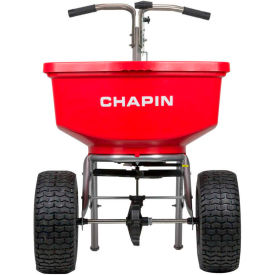 Seed & Fertilizer Spreaders
Seed and Fertilizer Spreaders Accommodate Fields, Landscaping Tasks, and more.

Seed and Fertilizer Spreaders disperse lawn care granular and seeds to help grow lawns and yards to their preferred appearances. Large and supportive pneumatic tires offer smooth transport on the project area. Enclosed gearbox prevents spreading grass seed or fertilizer from disrupting activity. Most models include hopper cover and a deflector as optional accessories to keep the material dry and to narrow the spreading pattern. Dimensions and additional specifications vary per model.