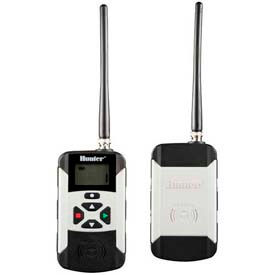 Hunter Irrigation System Remotes
Hunter Irrigation System Remotes Are Designed For Use With Commercial Or Residential Sprinkler Systems.

Hunter Irrigation System Remotes are made of high quality plastic for long lasting durability. Features specially designed system to run watering cycles without modifying regular programs for enhanced versatility.128 programmable addresses for greater reliability. Transmitter power source is 4 AAA batteries(included). Receiver power source is 24 VAC FCC approved. Operating ranges are 1000 feet or 2 miles. Programmable run times from 1 to 90 minutes. 2-1/4 inch Width x 7 inch Height or 3 inch Width x 6-1/4 inch Height. Rugged carrying case on select items. Two or Five Year Warranty.