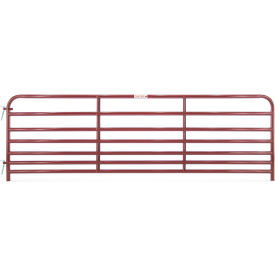 Farm Livestock Gates
Farm Livestock Gates Are Perfect For Farmland, Cultivated Lands, Grasslands and Similar Areas Where Livestock are Gathered Together.

Farm Livestock Gates can be placed with to panels to provide a secure access point into feeding grounds, pastures, and more. Stock gates are ideal for confinement situations as well as pasture and field entrances. Round Corner Gates are preferred for feedlots and large herd containment. Each gate features high tensile-strength tubing features strong impact resistance while keeping gates standing upright and firm throughout the day. Small Animal Gates cater to hogs, sheep, and other small animals. Dimensions and additional specifications vary per model.