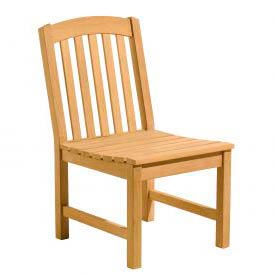 Outdoor Non-Stackable Sidechairs
Outdoor Armchairs Provide Comfortable Seating To A Variety Of Outdoor Settings.

Outdoor Armchairs are made of wood and resin for long lasting durability and dependability. Variety of weather-resistant outdoor furniture styles available to meet seating requirements and setting decor. Lightweight armchair designs, ottomans and side tables allow for easy mobility and storage. Types are Aluminum Chair, Highback Armchair, Classic Armchair, Dining Armchair, Midback Sling Chair, Metal Chair, Slated Armchair, Mesh Armchair, Outdoor Chair With Armrests, Conversation Table, Ottoman and Side Table. Color finishes are Aluminum, Antique, Black, Blue, Blueberry, Bronze, Brown, Charcoal, Chestnut, Desert, Espresso, Green, Khaki, Lime, Natural, Raspberry, Sandstone, Tangerine, Teak, Tobacco, Toffee, Unfinished, Weathered Acorn and White. Dimensions, quantities and warranties vary per type.