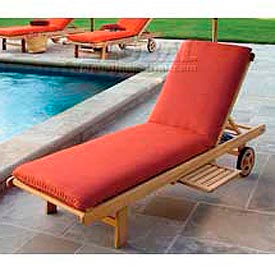 Outdoor Wood Chaises
The Ultimate Poolside Companion.

Perfect for any poolside and beach environment. This hardwood chaise is made with Shorea wood that resembles teak. Shorea hardwood offers natural oils and a dense texture that is resistant to weather, wear, rot, marring and infestation. Chaise features 5-position adjustable back and also lays flat for total comfort. Features a slide-out side tray that allows dual-sided access for convenient storage space. Moves on 2 wood wheels with rubber treads. Measures 78-3/4 L x 25-1/2 D x 14-1/2 H in flat position. Stainless steel hardware. Purchase Chaise Cushions for padded comfort to your chaise. 3-1/2 thick cushioning filled with thermal bonded polyester is mold and mildew resistance and fire retardant. 1 Year Limited Warranty.