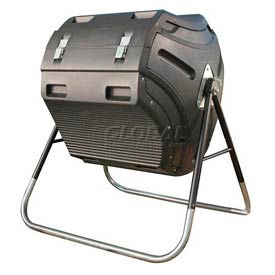 Lifetime® - Outdoor Yard Compost Tumbler
Outdoor Yard Compost Tumbler

Made with heavy duty, high density polyethylene panels that are UV protected this compost tumbler spares you the task of "turning" the compost pile. Available in 50, 65, 80, and 100 gallon sizes, each composter is black and built with double walled panels to absorb and retain heat which helps speed up the process of converting waste into compost. Each lifetime compost tumbler features a lightweight design and turns easily on axis for balanced rotation. The internal aeration bar in this lifetime composter is designed to mix compost and provide air flow. All hardware is included. Easy assembly.