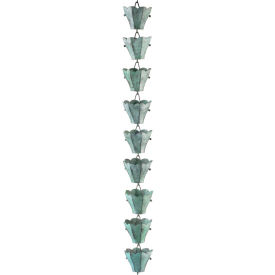 Rain Chains & Catchers
Rain Chains & Catchers Act As Linked Funnels For Gutter Downspouts.

Rain Chains & Catchers are made of polished copper or aluminum to provide long lasting durability in any weather. Available styles include: Watering Can, Wine bottle, Single Link, Soulbe Link, 6-Cup Crocus, Bamboo, Pails, 6-Cup Tulips and more. Rainwater is playfully guided from the rooftop to the ground. Heights range from 8" - 80". Available color finishes are Blue Verde, Copper and Silver.