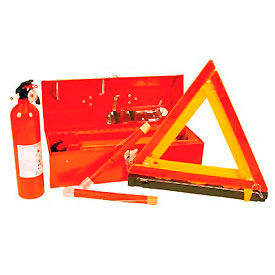 Vehicle Emergency/Safety Kits
Vehicle Emergency/Safety Kits Allow Traffic Control for Construction Sites, Garages, and more.

These safety kits can be stowed under the seat or in the trunk of vehicles for easy access in unexpected events or breakdowns. Kits contain a variety of emergency supplies to suit user needs. Emergency Warning Triangle Kits contain three reflective triangles with weighted base and wire bracing, as well as a durable plastic carrying case. Emergency Safety Kit contains three reflective triangles, portable fire extinguisher, flares with wire stand hold down strap, and a heavy duty steel carrying case. Extinguisher meets all DOT specifications. Available kit types include Drivers Safety, Emergency Highway Road Flare, Fleet Safety, Fusee, LED Safety Baton, Road Flare, Triangle, and Vehicle Emergency Safety Kit. Dimensions vary per model.