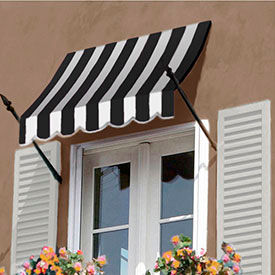 Awntech 8-3/8'W Spear Arm Awnings with Crescent Slope
Awntech 8-3/8' Spear Arm Awnings With Crescent Slope Are Maintenance Free Shade Options For Residential And Commercial Windows And Doors.

Spear Arm Awnings with Crescent Slope include aluminum frame engineered to maintain structural integrity in high winds or heavy snow. Fixed spear arm supports enhance awning appearance. Canopy is made from solution dyed fabric treated to resist fade and mildew for long lasting curb appeal. Crescent shape sheds water and moisture and provides cooling shade to building interiors for energy cost savings. Large selection of sizes available to meet specific installation requirements. Variety of awning Solid or Striped colors available to match exterior decor.