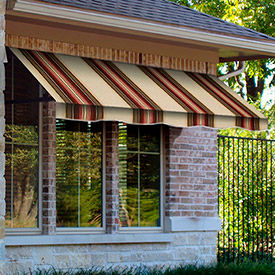 Awntech 8' 4-1/2" Open-Sided Slope Awnings
Awntech 8' 4-1/2" Wide Open-Sided Slope Awnings Are Commonly Found Outside Residential Or Commercial Windows and Doors.

Open-Sided Slope Awnings have structural aluminum frames engineered and tested to withstand heavy wind and snow for long lasting durability. Canopy is made from solution dyed acrylic fabric that is mildew-, fade- and water-resistant for outdoor use. Large selection of sizes available to meet specific installation requirements. Choose from Solid and Striped fabrics in a variety of colors to match building exterior.