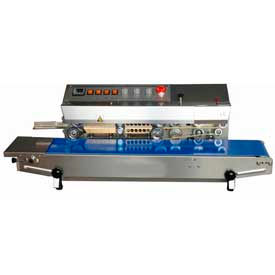 Sealer Sales Band Sealers
Band Sealers Seal All Types of Plastic Materials and Bags for Foodservice, Medical, Industrial Applications.
Band Sealers accommodate various types of thermoplastic materials and bags with optional embossing wheel for messaging.
Vertical and Horizontal style sealers
seal any thermoplastic material including PE, PP, and laminates and has a solid state temperature controller to maintain seal bars at proper temperature for consistent seal quality. Other features include:
Fully adjustable conveyor
Motorized rubber conveyor with speed control
Knurled pressure rolls with variable pressure adjustment
One pair each of cooling and heating blocks
Sealing method - constant/direct heat
Can easily be converted to a vertical configuration with an optional converting kit
Feeds are right to left or left to right and all units have an emergency stop button. Seal widths are 15 mm and 8mm. Stainless steel construction. Other dimensions vary.