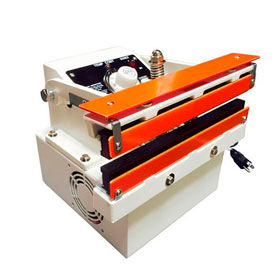 Sealer Sales Direct Heat / Constant Heat Sealers
Sealer Sales Direct Heat/Constant Heat Sealers Seal Contents Securely in Packaging for Fulfillment, Retail, Industrial Packaging, Foodservice Environments and more.
Sealer Sales Direct Heat/Constant Heat Sealers seal a variety of thermoplastic materials including aluminum foil, Kraft paper, cellophane, mylar, polypropylene, poly-nylon and other thicker materials. Available styles are
Foot Operated or Table Top.
Foot operated sealers have both jaws heated simultaneously for better heat penetration to seal thicker materials. The sealers include an adjustable worktable. Table top sealers have sealing bars that are enclosed with heat resistant plastic bars for safer operation. Compact design makes the unit best for smaller work spaces.
Seal types are Meshed or Serrated.
Lengths are 8", 12" and 16"
Models have digital temperature controller for convenience use
Power is 250W, 350W, 400W and 420W.