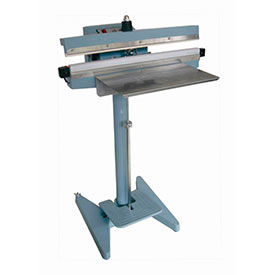 Sealer Sales Foot Sealers
Foot Sealers are used for High Volume Sealing in Commercial, Food Service, Medical Packaging Industries and more.

Foot sealers accommodate high volume poly bag sealing for packaging and supply applications. Plug-in timer ensures consistent flat seal. Includes pedestal, base, adjustable work table, and adjustable foot control. Types are Double Impulse, and Single Impulse. The hands-free design allows operation efficiency and accuracy. Single Impulse sealers are best for high volume poly bags and other thermoplastic sealing. The sealers are capable of sealing 15-20 bags per minute. Side switch cycles through three brightness levels and activates strobe. A micro-USB port allows recharging with a status indicator. Waterproof up to 2 meters. Double Impulse sealers are best for sealing thicker materials up to 20 mil total thickness. Equipped with a single and double sealing selector switch for the flexibility to seal various types of materials. A height adjustable working plate, a taller stand, and tension rod is included. Easy operation: Set the timer. Insert the bag between the two sealing bars and press down on the foot board. Hold down the foot board for an additional 2-3 seconds after the timer light goes off to set the seal. Seal lengths range from 11.8" to 35-3/4". Seal widths range from 2.5mm to 8mm. Dimensions vary per model.