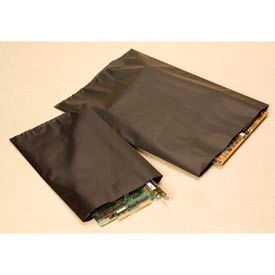 Black Conductive Bags
Black Conductive Bags Protect Electronic Equipment Against Electrostatic Charge.

Black Conductive Bags are made of heavy duty 4 mil black carbon impregnated Low Density Polyethylene (LDPE) film to create an extra strong static barrier. Layflat bags are made with an extra strong bottom seal and durable side weld for extra strength. Conductive bags meet specifications of MIL-P-82646, Rev. A. Protects against electrostatic charge, chemicals, abrasion, and humidity if heat-sealed. Poly bags can be closed using heat sealers, bag ties, or twist ties (sold separately). Sold in package quantities of 100.