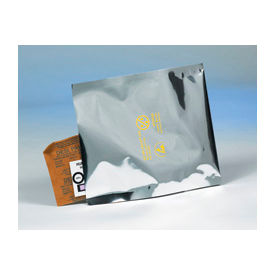 Moisture Barrier Bags
Moisture Barrier Bags Provide Electrostatic Discharge Shielding And Moisture Protection For Packaging in Trays, Shipping Tubes, And Reels.

Moisture Barrier Bags are manufactured from a laminate of durable metallic layers and polyethylene for long lasting puncture resistance. Strong, light-weight bags protect expensive electronic components from damage due to moisture or electrostatic discharge during transport. Suitable for vacuum packaging and nitrogen flushing. Static safe dissipative inner and outer surfaces. Thicknesses are 3.5, 3.6, 4, and 6.5 mil. Date and lot coded for tractability. Meets electrical and physical requirements of EIA583, EIA541, EIA625 and MIL-PRF-81705 Type 1. Available in package quantities of 100 and 1000. Dimensions vary per model.