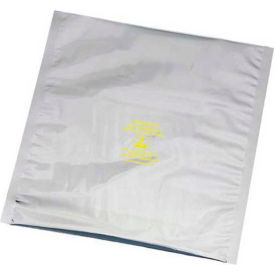 Metal-Out Static Shielding Bags
Metal-Out Static Shielding Bags Prevent Incoming Static Charges from Damaging ESD-Sensitive Products.

Metal-Out Static Shielding Bags are constructed with a laminated metal outer layer required by many end users for long lasting durability. Packaging protects devices from physical damage as well as provide proper static shielding during transport. Transparent styles provide 40% light transmission that allows for identification of bag contents. Open-cell cushioning structure of cushioned bags provide physical shock protection even when punctured. Metal-out static shielding bags are tested to meet or exceed certain electrical and physical requirements. Bag thickness is 3 mil. Color is Silver. Package quantity is 100. Sizes vary per model.