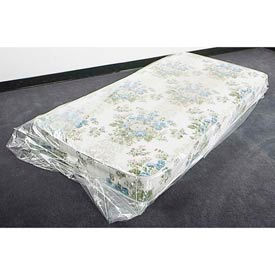 Mattress Bags On Rolls
Mattress Bags on Rolls Protect Mattresses from Dirt, Stains and Moisture when Stored or for Moving.

Mattress Bags on Rolls are made of super strong Low Density 1.1, 1.5, 3, and 4 MIL Polyethylene (LDPE) to provide protection for mattresses and box springs. Bags are vented for quick loading. Neatly wound on a 3" core with 1" diameter core plug with perforations between bags makes tear off easy and fast. Smart Tech Bags™ are engineered to provide 3 times the impact and twice the tensile strength of traditional low density polyethylene bags. Available for Single, Double, Twin, Full, Queen, King, X-Queen and X-King. size mattresses. Roll quantities and dimensions vary.