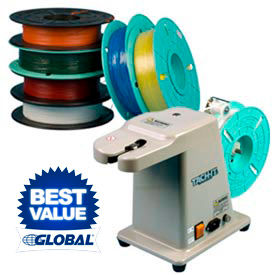 Twist Tie Machines and Materials
Twist Tie Machines and Materials are used for Packaging Applications in a Variety of Environments.

Twist Tie Machines and Materials are available in Decorative and Machine types. Decorative machines are used by confectioners, bakers, gift baskets, holiday pastries and cookies, potpourri for decorative tying and wrapping. Machine type is used for larger bags or for applications where variable size tying diameters are necessary including large bags, small coils and hanks, electric cord sets and cables, tubing, flowers and agricultural products, wire harnesses, clothes hangers and more. Other types are non-metallic, Paper/Plastic, and Plastic only. Variety of types, styles and sizes available to meet job and labeling requirements. Colors are Black, Blue, Brown, Gold, Green, Grey, Orange, Red, Silver, Tan, White, and Yellow. Widths and lengths vary per type.