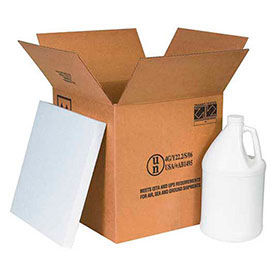 Hazardous Materials Boxes & Shipping Foam Kits
Hazardous Materials Boxes and Shipping Foam Kits Prevent Hazardous Material Spillage Including Solvents, Thinners, and Paint While In Transit.

The 275#/ECT-44 test corrugated construction provides strength and impact resistance for lasting durability. The boxes include mandatory warning information for efficient hazmat identification. Multiple options include cartons, cans, jugs, and foam inserts. UN/USA D.O.T. approved containers. Types and dimensions vary per model.