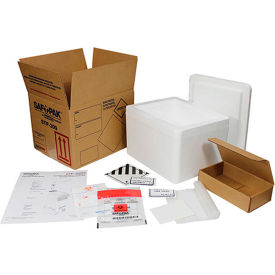 Insulated Biological Shipping Packages
Insulated Biological Shipping Packages Are Suitable For Transporting Test Samples Where Steady Temperature Insulation Is Needed.

Insulated Biological Shipping Packages are designed for the shipment of temperature controlled shipments using phase change materials such as the SAF-T-TEMP® line as well as Dry ice as an energy source. Kit Components include insulated chest, fiberboard box, and more accessories and features for added security. Each unit qualifies for Category B and Exempt Patient Specimens and Dry Ice and are ideal for overnight frozen shipments. Select leak-proof polybags when combined with compatible Tyvek® envelopes will equal a pressure tested (95kPa) secondary, for safe transport by air. Available Kits Per Case are 4 or 8 depending on the model. Dimensions, kit types, and additional specifications vary per model.