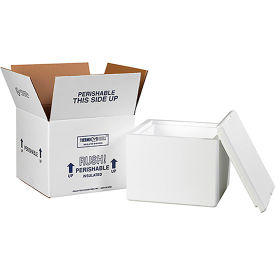 Insulated Shipping Kits
Insulated Containers Maintain Temperature Sensitive Packages During Extended Shipping Times.

The 200# white corrugated carton construction with molded EPS foam container and lid provides durability, damage protection, and convenient temperature control. The cartons are printed with "Rush", "Perishable", and "This Side Up" arrows providing high visibility shipping instructions. The containers are lightweight, reusable, and recyclable. Shippers are light-weight and can be reused. Dimensions and wall thickness vary per model. Cases can contain 1, 2, 4, 8, 12 or 24 kits.