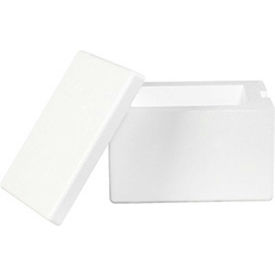 Insulated Foam Containers
Insulated Foam Containers Provide Product Protection in Shipping.
Insulated Foam Containers maintain product insulation as needed for shipping. Shippers are lightweight, reusable, and recyclable. Thick, 1-1/2" polystyrene molded foam container is thick to prevent contents from breaking or crushing. Used with refrigerants such as Cold Packs. Lengths are
8" and 12".
Widths are
6" and 10".
Heights are
4-1/4" and 9".
Sold in package quantities of 1, 8, and 12.
To purchase refrigerants such as
Cold Packs
,
Click Here.