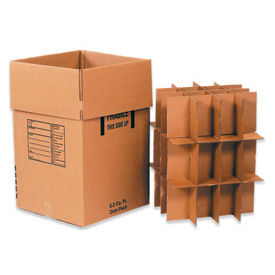 Specialty & Moving Boxes
Specialty and Moving Boxes Provide Multiple Packing Options for Shipping and Transport Needs.

Specialty and Moving Boxes are made with 200# / ECT-32 and 350# / ECT-51 double wall construction to provide strength and protection when shipping or moving contents. Special "flap tabs" hold flaps down and out of the way to make packing easier. Weight capacities are up to 120 lbs. Cartons are printed with FRAGILE warning, THIS SIDE UP arrows, and a convenient write on destination panel for deliver to or special handling instructions. Some models have hinged hand holes for easy carry. Up to 5.2 cubic foot capacity. Lengths range from 12" to 40". Widths range from 3-1/2" to 24". Heights range from 8" - 60". Sold in bundle quantities of 3 - 25. Sold and shipped flat in package quantities and sets.