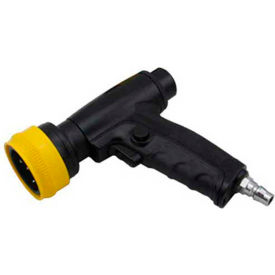 Air Bag Inflators & Accessories
Air Bag Inflators and Accessories Allow Easy Inflation and Maintenance of Dunnage Bags for Shipping, Warehouse, and Other Related Applications.

Inflators and accessories fill bags to fill spaces, brace loads, and absorb vibrations to prevent damage in transit. Accessories include Electric Air Filling Blower, Combo Inflator Tool, Battery Air Filling Blower, Digital Air Gauge, Air Inflator Tip, Dunnage Air Bag Inflator, Replacement Air Gauge, and Venturi Air Tool. Dunnage Air Bags are paper bag layers designed with an inflatable internal polyethylene bladder for use as a blocking and bracing tool that restrains movement of cargo loads in trucks, overseas containers, or railcars. Air Bags make better use of container space and time and improve organizational productivity. Air Inflator Tool can be used on hoses with standard 1/2" opening. They snap and lock onto bag for airtight hold. Replacement Air Gauge is used with International Dunnage combo tools. The Air Tool has a start/stop gauge for airflow and can be used with a pencil gauge to check the pressure or with an adjustable venturi to control the pressure inside the bag. Lengths and widths vary per accessory.