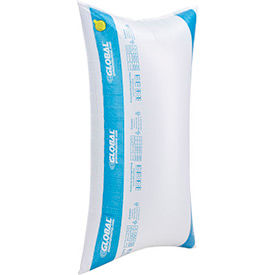 Polywoven Dunnage Air Bags - Level 1
Polywoven Level 1 Dunnage Air Bags Fill Vertical and Horizontal Voids For Truck/Container Applications Including Storage, Distribution, and Fleet.

Polywoven Level 1 Dunnage Air Bags are made of airtight polyethylene inner layer and a strong, elastic polywoven fabric outer layer to provide long lasting durability. Inflating feature offers outstanding load-stabilizing capacity and resistance to load shifting, withstanding tons of pressure. Inflating and deflating valve. Inflators quickly inflate airbags ensuring consistent pressure levels (sold separately). Equivalents are 1-ply and 2-ply. Inflations are 3 PSI Max and 2-3 PSI Max. Widths range from 36" - 48". Lengths range from 36" - 102". Package quantities vary.