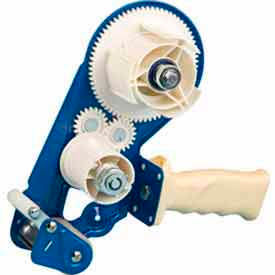 Double Sided Tape Dispenser
Double Sided Tape Dispensers Feature Sturdy, Heavy Duty Construction For Industrial, Assembly Shop And Specialty Packaging Applications.

Double Sided Tape Dispensers are durable enough for laying carpet, signage, trade shows, sample and demonstration boards, and specialty packaging. Corrugated blades cut the heaviest double sided and foam tapes for long lasting use. Includes adjustable brake, rubber roller, and gear driven positive rewind system for the waste liner. Bench top dispensers feature a weighted base for stable operation. Available styles are Bench Top Dispenser, Hand-Held Dispenser, and Hand-Held Dispenser w/Liner Remover. Tape widths range from 1/2 to 2 inches. Roll diameters are 6 and 7 inches. Core size is 3 inches. Dimensions vary per model.