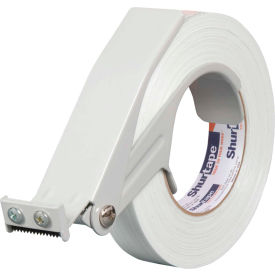 Strapping Tape Dispenser
Strapping Tape Dispensers Feature A Special Corrugated Blade For Efficiently Cutting Tough Tapes.

Filament And Strapping Tape Dispensers are made with high-impact plastic and steel construction for long lasting durability. The hand brake allows the operator to control the tension for tight, secure reinforcing of supplies and bundling applications. Available styles are Filament & Strapping, Portable High Impact Hand Held, Lightweight Filament Hand Break, and Utility Bracketed Filament Tape Dispenser. Tape widths range from 1/4 to 1 inch. Roll diameter is 4-1/2 inches. Core size is 3 inches. Dimensions vary per model.