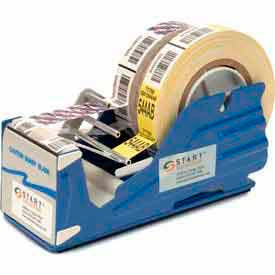 Wide Manual Tape & Label Dispenser
Wide Manual Tape and Label Dispensers Allow Convenient Package Sealing and Identification for Office, Retail, and Production Applications.

These dispensers are economical and made of durable plastic and steel for long lasting dependability. Works on any flat surface. Tape is cut by pulling upward across the high-quality serrated blade. Weighted base ensure stability during operation. Multi-Roll dispensers include tiered metal bars to help guide and separate the tape rolls for optimal use. Desk organizers feature multiple compartments for tape, small supplies, paper clips, thumb tacks, pens, pencils, scissors and more. Available styles include Desk Tape Dispenser, Desktop Labels & Packaging List Dispenser, Multi Desk Organizers, Multi Manual Tape & Label Dispenser, and Multi Manual Water Activated Tape & Label Dispenser. Tape widths range from 1/4 to 18 inches. Roll diameters are 2-3/4, 2-13/16, 4-3/4, 5, 6, and 6-1/4 inches. Dimensions vary per model.