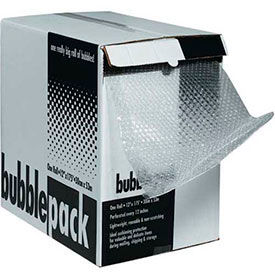 Bubble Rolls With Self Dispensing Carton
Bubble Wrap With Self Dispensing Cartons Save On Packing Time And Labor.

Bubble Wrap With Self Dispensing Cartons are made of air filled, molded polyethylene for long lasting durability. Absorbs shocks, reduces vibrations and overcomes abusive handling. Sturdy self-dispensing carton suspends rolls on internal reel-type supports and permits rolls to pull out freely to desired length. Rolls vertically perforated at center and horizontally perforated every 12 inches for tearing convenience. Bubble thicknesses are 3/16", 5/16" and 1/2".. Colors are Clear or Pink. Roll sizes are 12", 24" and 48" widths by 50', 80', 100', 150' 175' and 250' lengths. Package quantity is 1. Extra quantities also available.