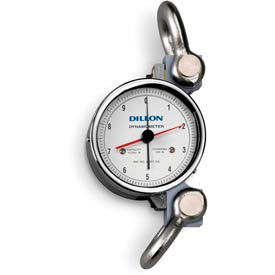 Mechanical Dynamometers with Kilogram Capacities
Mechanical Dynamometers with Kilogram Capacities Have A Broad Range of Capacities and Resolutions For Weighing Applications.

Dynamometers have a powder coat paint to provide unit protection and long lasting durability. Temperature range is -50 to 140° F to provide operability in most environments. Dial size choice provides visibility options, and anti-parallax dial and pointer produce accurate readings. Retains peak load point with easy reset. Generous shackle openings provide compatibility with most hooks and hardware.High specification materials on all load components. Heat treated to tight tolerancesIncludes ABS plastic carry case with die-cut foam inserts. No batteries required. Inits measure 14.5"L x 6"W 2 Year Warranty.