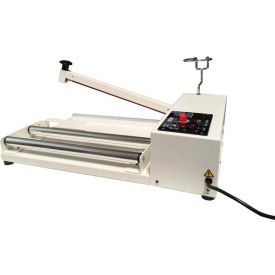 Sealer Sales I-Bar Sealers
Sealer Sales I-Bar Sealers are used for Shrink Film Packaging or Sealing Poly Bags.
Sealer Sales I-Bar Sealers and the work base are constructed of steel for quality and long lasting durability. Used primarily for shrink film packaging, it's also used to seal poly bags similar to how a hand sealer works. Available styles are
I-Bar Sealers w/Film Roller and Round Wire, and I-Bar Sealers w/Film Roller and Sliding Cutter.
Styles can use film up to 34" wide and 0.025mm (100 gauge) thickness. Additional features include timer, heat gun holder, film roller, film separator and cutter unit. W-Series I Bar Sealers are ideal for shrink wrap packaging as the sealers are accompanied with a round wire for cut and seal applications. Easy to operate: insert product between the two layers of center fold film and press down the sealing bar. Pull the sealer package slightly away from the sealing bar. The element wire will cut and seal the edge. Then turn it over and seal the other side. Apply hot air using heat gun to shrink the film uniformly.
Ideal for shrink wrapping or making bags from poly tubing
Impulse sealing requires no warm up time
Heavy duty construction for durability
Available lengths are 14", 20", 26", 30" and 35"
Widths are 2.7mm and Round
Wattages range from 450W - 1000W