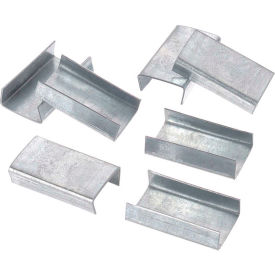 Seals for Steel Strapping
Seals for Steel Strapping Increases Packaging Strength for Commercial, Industrial, and Other Packaging Applications.

This strapping is made of galvanized steel for long lasting durability, strength and dependability. Available in a variety of sizes and styles to meet package sealing requirements. Types are Push-On Heavy Duty Seal, Push-On Seal For Steel, Snap-On Open Heavy Duty Seal, Wing Seals For Steel and Snap-On Open Seal For Steel. Widths are 3/8 in., 1/2 in., 5/8 in., 3/4 in. and 1-1/4 in. Color finish is Silver. Package quantities are 1,000/Case and 2,500/Case.