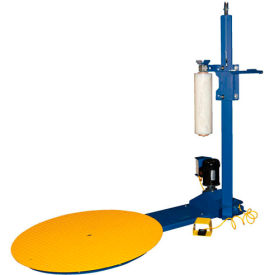 Manual Stretch Wrap Machines
Manual Stretch Wrap Machines Have Hand and Foot Controls for Easy Operation in Pallet Wrapping.

Manual stretch wrap machines use hand and foot controls to raise and lower film for wrapping. Powered foot control operates turntable for optimal rotation. Friction brake assembly provides wrap tension control and film placement. Features non-skid tread plate and variable speed control. Forklift portable. Minimum stretch roll widths are 10" and 12". Maximum stretch roll widths are 18" and 20". Wrap heights are 80", 82", and 83-3/4". Weight capacities are 4000 and 5000 lbs. Dimensions vary per model.