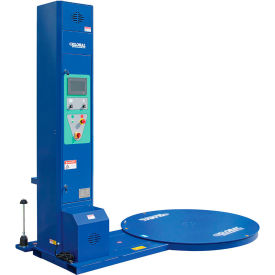 Semi-Automatic Stretch Wrap Machines
Semi-Automatic Stretch Wrap Machines Support Low Volume Pallet Wrapping Jobs.

Stretch wrap turntables provide a safe method for unitizing loads, while providing a competent pallet load. Semi-automatic stretch wrap machines require an operator to place the pallet loads on the stretch wrapper and apply the film tail to the load to initiate the cycle. After which, the stretch wrapper applies the film and wraps the pallet load. Units are ideal for low volume applications, with fewer than 20 loads per hour being wrapped. Machines automatically adjust to load size and apply even load force for precise stretch level and film force. Top and bottom counters ensure added load stability. Select models are front and rear fork lift portable. Table Diameter range is from 48 – 65". Weight capacity range is from 3,000 - 4,000 lbs. Dimensions and additional specifications vary per model.