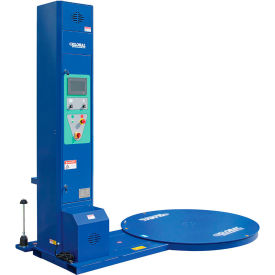 Semi-Automatic Stretch Wrap Machines
Semi-Automatic Stretch Wrap Machines Support Low Volume Pallet Wrapping Jobs.

These stretch wrap machines are a safe method of unitizing loads, while providing a competent pallet load. Semi automatic stretch wrap machines require an operator to place the pallet loads on the stretch wrapper and apply the film tail to the load to initiate the cycle. After which, the stretch wrapper applies the film and wraps the pallet load. Best for low volume applications, with fewer than 20 loads per hour being wrapped. Machines automatically adjust to load size and apply even load force for precise stretch level and film force. Information screen displays operation and diagnostic data for troubleshooting. Top and bottom counters ensure added load stability. Front and rear fork lift portable. Automatic Film Cut saves time by automatically cutting the film at the end of the wrap cycle. Photocell sensors automatically adjust to different pallet heights. This semi-auto stretch wrapper can save up to 67% on wrap usage. Uniform capacity is 4,000 pounds. Minimum stretch roll widths are 10" and 20". Wrap heights are 80", 104", and 110". Dimensions vary per model.