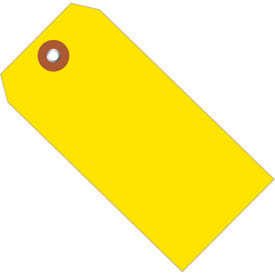 Plastic Shipping Tags
Plastic Shipping Tags are Waterproof for Indoor and Outdoor use.

Plastic Shipping Tags are made of 10-Mil plastic and waterproof vinyl for wet or damp applications. Metal eyelet adds to structural integrity. Available in 4-3/4" x 2-3/8" and 6-1/4" x 3-1/8" sizes. Made from strong, 10-Mil Vinyl for long lasting durability. Colors are Black, Blue, Red, White, Green, Orange, and Yellow. Pre-Wired and No Wire tags are available in all colors. Sold in package quantities of 100.