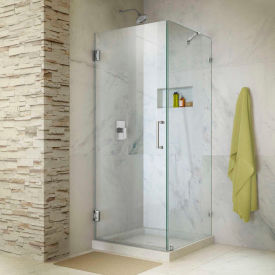 DreamLine™ Shower Enclosures
DreamLine™ Shower Enclosures Are Used For Commercial And Residential Shower Installations.

Shower Enclosures are made with 1/2 inch thick clear glass, stainlees steel hardware, and stainless steel top bar and bottom threshold for long lasting durability. Anti-splash threshold and convenient handle provide added user convenience. Left-wall or right-wall installation available. Shape is Rectangular. Color finishes are Brushed Stainless Steel or Polished Stainless Steel. Sliding door w/opening ranges of 24 or 26 inches. Other dimensions vary per model.