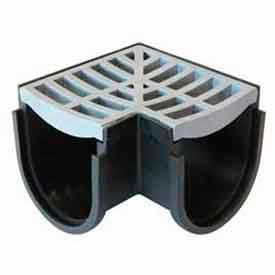 Stormdrain Water Management Systems
Storm Drain Water Management Systems Provide A Convenient Means Of Dispersing Standing Water.

Storm Drain Water Management Systems provide a high performing, durable solution for eliminating water collection on driveways, pools, patios, walkways, sports courts, and more. Rectangular Downspout Connectors have a built in bottom outlet to accommodate up to a 4" drain pipe and 4" sewer and drain pipes. Channel Drain 90 Degree Corner with Grey Grate and 1 Meter Storm Drain Channel with Grate are both concave to efficiently trap and transfer water. Storm Drain Leaf Guards easily fit into bottom outlets and channel lengths interlock with a secure built-in joining system. Anti-flotation feet secure Channels in concrete. End Caps are made from durable 100% recycled polypropylene. Storm Drain Contractor Packincludes 3 Channels, 1 End Cap, and 1 End Outlet.