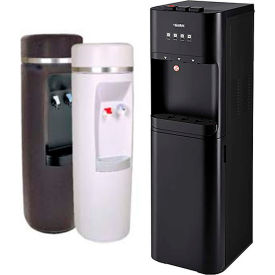 Bottleless & Point Of Use Water Coolers
Bottleless and Point of Use Water Coolers Accommodate Office Settings, Public Buildings, and Other Commercial Buildings Where a Convenient Water Source is Needed.

Water Bottleless Freestanding Water Coolers come in a variety of types, ranging from stylish, rounded front, contemporary design to more standard water cooler units. Bottleless water coolers are preferable for breakrooms where employees have water containers or thermos already on hand. Point of Use Water Coolers are designed to connect directly to water supply line. Each unit features user friendly control panel for ease of use. Select models contain LED indicators to designate when hot or cold water is dispensing. Dimensions and additional specifications vary per model.