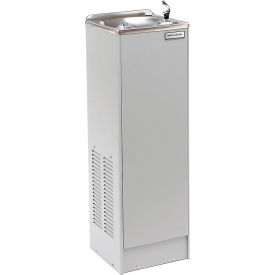 Halsey Taylor® Economy Floor Water Coolers
Halsey Taylor® Economy Floor Water Coolers Offer An Economical Chilled Drinking Water Solution For High Traffic, Indoor Areas.

Self-contained, electric refrigerated water coolers provide 50°F water at 80°F inlet water and 90°F ambient temperature. Cabinet is made of heavy-gauge vinyl clad steel that is resistant to wear, moisture, perspiration, heat and sunlight; also available in Stainless Steel. Non-corrosive 300 series stainless steel cooler top has a satin finish to resist stains and corrosion. Anti-splash ridge reduces splatter. Contoured to insure proper drainage. One-piece, chrome-plated two-stream mound-building bubbler with non-removable anti-squirt feature and integral hood. Automatic stream height regulator with self-closing assembly is located inside unit to prevent tampering. Unit resists corrosion and liming. Constant stream height is automatically maintained under line pressures that vary from 20 to 105 psi. Easily cleaned in-line strainer screen traps particles of 140 microns or larger before they enter the waterway. Non-pressurized stainless steel evaporator/storage tank for long life. Hermetically sealed, positive start compressor with lifetime lubrication and built-in overload protection, efficient capillary sizing, large capacity dryer-strainer and self-lubricated fan cools copper/aluminum condenser. System uses R134A refrigerant. NSF/ANSI 61 certified. 5 Year Limited Warranty.