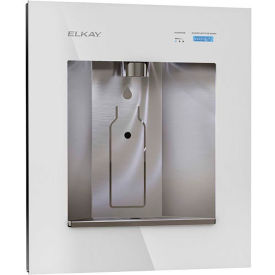 Elkay ezH2O Built-In Filtered Water Dispensers
Elkay ezH2O Built-In Filtered Water Dispenser Provides Potable Water for Residential & Light Commercial Applications

This dispenser features a hands-free filling system with an automatic timed shut off to prevent accidental spillage. The LED green ticker tracks the quantity of disposable, plastic bottles served while minimizing waste. The NSF-certified filter is designed to reduce lead and other harmful contaminants for drinking water safety. Includes a filter status light that indicates when filter replacement is required. Features a safety lock setting that prevents unsupervised use for added protection. Easy installation. Available as Non-Refrigerated or Refrigerated. Wattages are 25 and 165. Voltage is 115. Color finishes are Aspen White and Midnight. Dimensions vary per model.